Sports & Vision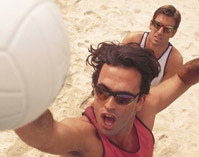 And there is much more to vision than just seeing clearly. Your vision is composed of many interrelated
skills
that can affect how well you play your sport. However, just as exercise and practice can increase your speed and strength, it can also improve your visual fitness and accuracy.
Because all sports have different visual demands, an optometrist with expertise in sports vision can assess your unique visual system and recommend the proper eyeglasses or contact lenses, or design a vision therapy program to maximize your visual skills for your specific sport. Remember, a thorough eye examination by your doctor of optometry is a great place to begin "getting the winning edge."
Eye protection should also be a major concern to all athletes, especially in certain high-risk sports. Thousands of children and adults suffer sports-related eye injuries each year, and nearly all can be prevented by using the proper protective eyewear. Especially for sports played outdoors, appropriate sunglasses are a must, and some sport-specific designs may even help you improve your game. Ask your optometrist which type is best suited for your favorite sport.