Contacts: Facts and Stats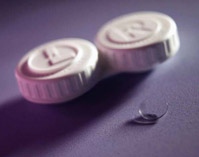 So you want to wear contact lenses. Well, you're not alone. Let's take a quick look at who is wearing contact lenses today.
Over 30 million Americans wear contact lenses
Two-thirds of all contact lens wearers are female
Ten percent are age 18 or under
Fifteen percent are between the ages of 18-24
50 percent are 25 to 44 years old
Most contact lens wearers are nearsighted
Eighty percent wear daily wear soft lenses
Over fifty percent wear 1 to 2-week disposable lenses
Fifteen percent wear extended wear soft lenses
More than 80 percent of contact lens wearers go to an optometrist for their eye care.
Source: Contact Lens Institute
May 2003